Before and After: A Dated Desk Is Transformed into a Functional Kitchen Island
This is quite an ambitious DIY project but it shows what can be done given some time and vision!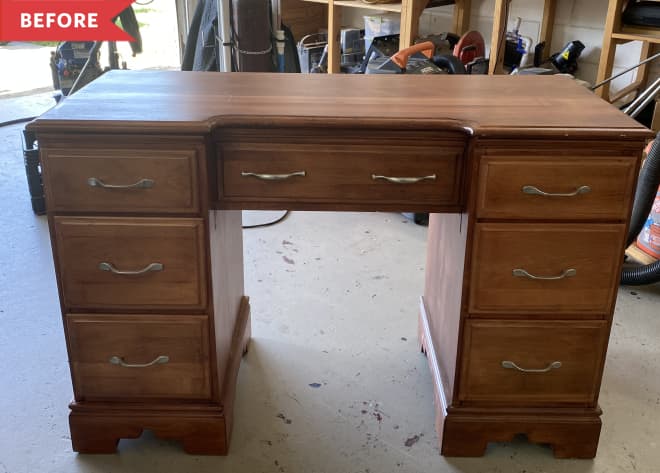 Kitchen renovations are a pricy endeavor, especially when you factor in custom cabinetry. But clever DIYs can go a long way in reducing costs—and this DIY from Christina LeClaire of Gutsy Homemaker is about as clever as they come.
Christina saw this desk on Facebook Marketplace and envisioned something far greater for it. "I knew that I wanted a kitchen island to replace my dining room table," Christina says. "I found a solid wood desk with the perfect dimensions and just knew that it would make the perfect base for a kitchen island."
If you're doubtful, Christina says she has friends who were, too. But a few adjustments made this desk totally unrecognizable.
Christina kept the same old drawers but used wood trim and new pulls to give them apothecary style. Then, she added a new wood top—which she extended long enough to fit two stools underneath—that's propped up with turned legs.
A light green paint on the base of the island recalls Depression-era glass, which complements the vintage cottage-y vibes of the apothecary drawers.
"I love everything about the after!" she says. "Everyone around me thought I was crazy when I told them I was going to turn a desk into an apothecary-style kitchen island because they couldn't see it, but now they love it, too!"
READ MORE…
Original source: https://www.apartmenttherapy.com/diy-desk-to-kitchen-island-transformation-36837139?utm_source=RSS&utm_medium=feed&utm_campaign=Category%2FChannel%3A+main