Before and After: A Destined-for-the-Dump Vintage Hutch Gets Respectful Refresh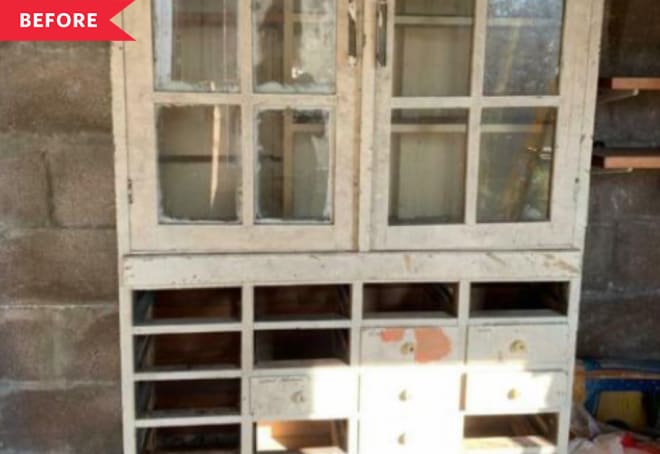 This cabinet was going to be trashed until one DIYer turned it into a treasure.
It can be tough to see the potential in old furniture, especially old furniture that's heavily damaged—but this makeover from Sharnene Jewell proves that even the roughest pieces can be transformed into something special.
Sharnene found this cabinet in a garage that was going to be demolished and saw that it was clearly handmade. "There were drawers missing and it was badly painted," she says, adding that it looked to be made from scrap wood and shipping crates. Still, it was solid wood, and it was free, so Sharnene took it home to give it a little TLC.
Over four days, Sharnene turned the destined-for-the-dump piece into a stunner. She started by cutting down the bottom portion so that there were enough drawers to fill it. That meant she could get away with not buying or making any new drawers.
Next, Sharnene cleaned the paint off the glass portion of the cabinet and sanded all the wood pieces smooth to remove the chipping paint.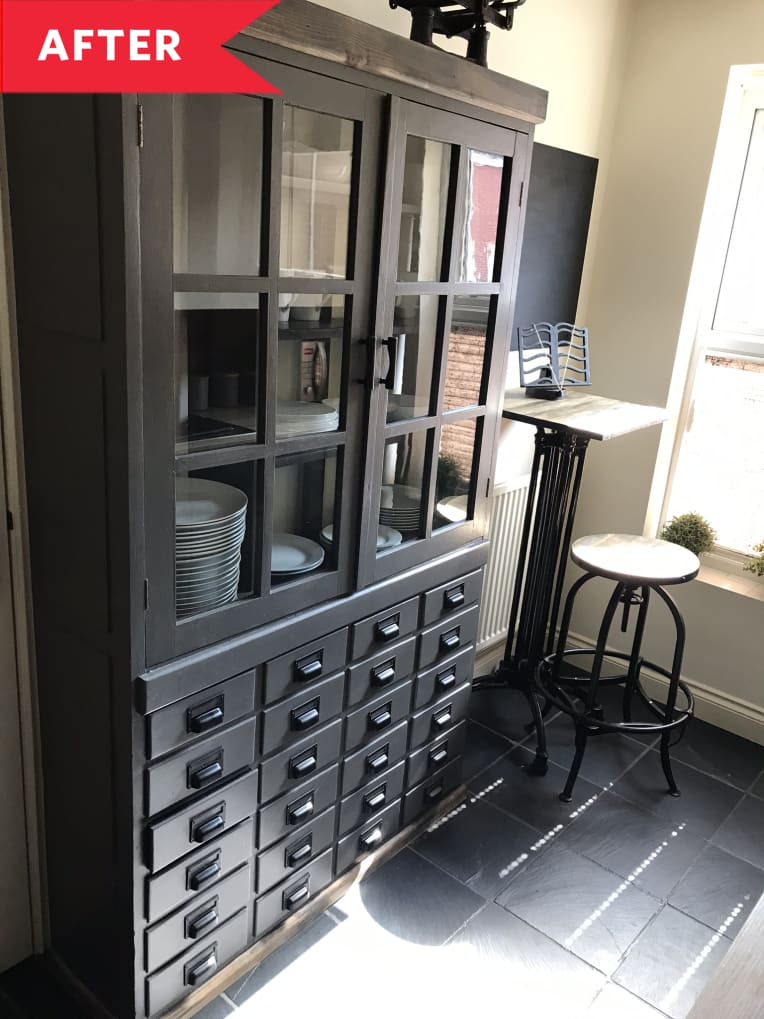 Finally, Sharnene painted the piece dark gray—a custom mix that she pulled together using leftover paints she already had at home. Then, she replaced all the old drawer knobs with vintage-style bin pulls. Total cost? Just £40.
It's hard to believe in looking at this cabinet that it was ever destined for the dump, but Sharnene's updates saved it—while also honoring its past.
"I love everything about it, especially the history behind it," Sharnene says. "I would love to know something about who made it."
"You get so much satisfaction from pieces you've up-cycled yourself," she adds. "Also a different love and appreciation for older pieces than new shop-bought ones."
READ MORE…
Original source: https://www.apartmenttherapy.com/vintage-cabinet-dark-gray-redo-36847347?utm_source=RSS&utm_medium=feed&utm_campaign=Category%2FChannel%3A+main